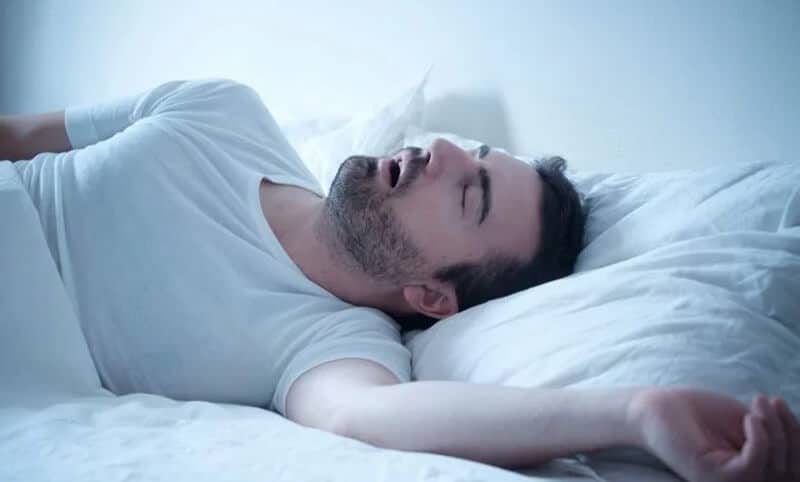 Recommended oxygen level during sleep
Doctors can utilize the very best pulse oximeter for sleep apnea to find out the degree of oxygen in the human body in percent form. This measurement is referred to as the SpO2 (or, the oxygen equilibrium level). The standard oxygen saturation level within the entire body is between 95% and 100 percent.
Sleep apnea is considered a life-threatening sleep disorder as it reduces oxygen levels and causes disturbed sleep. Oxygen deprivation and lack of sleep can lead to heart diseases and memory problems and it is advisable to consult a doctor if you experience any of its symptoms.
Health experts suggest that one way to find out if you are suffering from sleep apnea is to use an oximeter. It is a device that measures oxygen levels in your blood and is often used in hospitals. But there are also pulse oximeters that you can use at home.
What are the uses of a pulse oximeter?
Have you ever been in a hospital where the patient you visited had a small clamp-like instrument attached to his or her finger or earlobe? If yes, chances are high that you have already seen a pulse oximeter. The purpose of this device is to determine whether the heart is doing good in distributing oxygen in the entire body.
Aside from its main function, a pulse oximeter can also be used to assess a lung medication, the performance of a ventilator, how much a person can withstand strenuous physical activity, or know if a person experiences a sudden pause in breathing.
How does a pulse oximeter work?
The probe or the clamp-like part of the oximeter should be clipped on a finger, toe, or earlobe where it can fit perfectly. It will release small beams of light that can pass through the blood in the body part where it is attached and send information to a monitor. This is usually painless and only a small amount of pressure can be felt.
It should be not too tight on the finger as it can constrict blood flow and not to lose as it can let other kinds of light to go in. Also, nail varnish, pigment on finger, and patient movement could interfere with the performance of the probe.
What is the normal oxygen level during sleep?
A person's oxygen level normally reads from 90-100% during sleep and can be considered abnormal when it falls down below 88%. The common symptoms of oxygen deprivation during sleep are:
Restlessness
Rapid breathing
Rapid heart rate
Waking up with a headache
Bluish tint to nail beds, earlobes, and/or lips
High blood pressure
Shortness of breath
Waking up coughing or choking
Snoring
Lack of concentration during daytime
Weakness or lack of energy
Drowsiness
Poor memory
When this happens, you should immediately seek professional help to avoid further medical problems.
What are the best pulse oximeters in the market?
If you have no idea what kind of pulse oximeter to buy for sleep apnea, worry no more because we compiled the best performing pulse oximeters available in the market based on customer reviews and professional recommendations.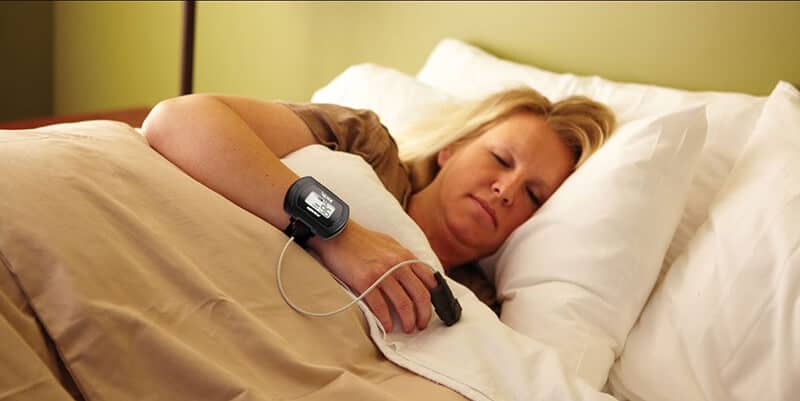 Best sleep apnea oximeter reviews
2 new from $21.20
Free shipping
as of January 3, 2021 12:14 am
You don't need a medical background to learn how to use the Concord Fingertip Pulse Oximeter as it is very convenient and easy to use, particularly for beginners. It has bright
and a large LED screen which can help people with poor eyesight read the numbers efficiently, even in the dark. It also comes with controls that are not complicated to operate and can run up to 30 hours of continuous use using 2AAA batteries.
This oximeter can provide you with guaranteed quick and accurate readings, which is very helpful to carefully monitor your blood oxygen saturation on a regular basis. It also comes with a carrying case, a lanyard, and batteries so you can carry it along during your out-of-town trips.
1 new from $16.95
Free shipping
as of January 3, 2021 12:14 am
Originally designed to be used by pilots and sports enthusiasts, the Facelake Pulse Oximeter is also one of the most efficient pulse oximeters you can use to be aware of your oxygen saturation level. With a simple press of a button, this device can give you quick and accurate readings in 10 seconds through its large LED display.
What users love about this product is it is lightweight and accommodates different sizes of fingers. It can also last for more than 30 hours of continuous use and its batteries are very easy to replace. Also, Facelake has a wide range of pulse oximeter designs you can choose from.
If you're looking for a quite advanced pulse oximeter that can let you monitor the readings though your phone, then the iHealth Air Smart Pulse Oximeter is right for you! This stylish device can be connected to an iOs or an Android device through Bluetooth and transmits results to the iHealth MyVitals app which can help you secure your oxygen level data history.
This device can also read your pulse and your perfusion index (through the app). It comes in a box which includes a strap, a USB charging cable, a quick installation guide, and a user manual. You can be sure of its quality as it bears a CE marking and is a certified health regulated product.